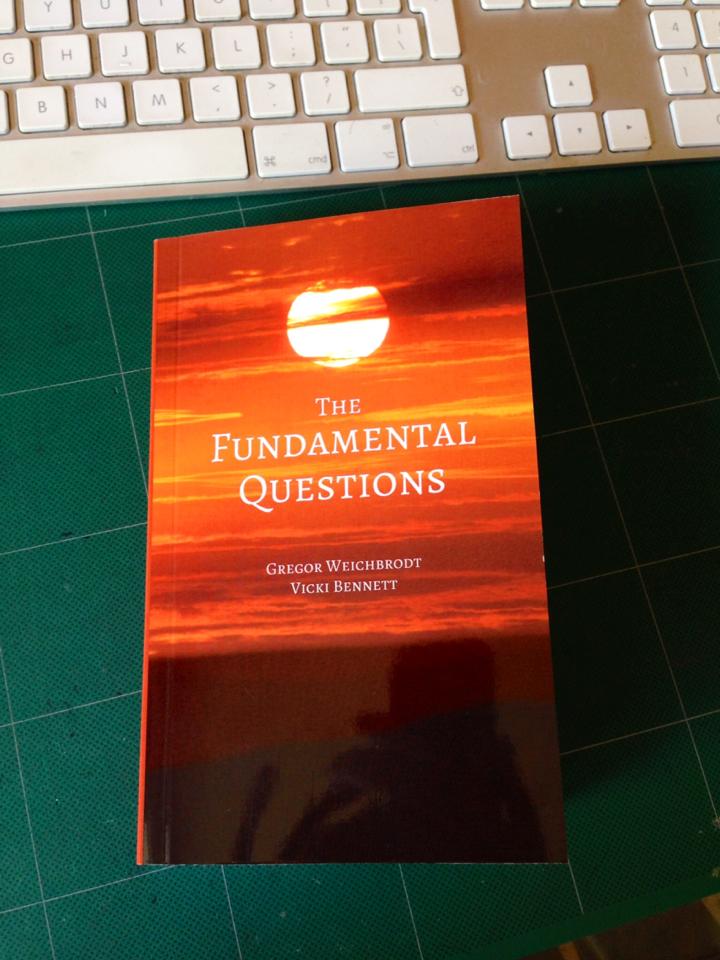 THE FUNDAMENTAL QUESTIONS
new book by Gregor Weichbrodt, Vicki Bennett
Paperback & pdf, 569 Pages 

Buy the paperback book: http://www.lulu.com/shop/gregor-weichbrodt-and-vicki-bennett/the-fundamental-questions/paperback/product-21696219.html
You can now also purchase the book from The Wire magazine bookshop
Free downloadable pdf here or here

Update 2020: there is now a second edition to be available exclusively on site only at Hallwalls to coincide with Vicki's solo exhibition First Person, Fourth Wall.

You may be familiar with the music, film, radio and stills work of People Like Us but this is the first step into this medium.  Although we've written essays, we've not written a book before.  And we still haven't!  This content is sourced from online, developed online over the course of a 10-day conversation with Gregor Weichbrodt after we observed that searching for answers on a particular internet website possibly reflected and paralleled deeper questions within life…

Who am I?  Where do I come from?  What is my purpose in Life and what happens when I die? For centuries people have tried to come up with answers regarding the fundamental questions of life. Then the internet was invented and these questions have finally been answered – by users.

The Fundamental Questions captures them in an inspiring record of epic proportions where every individual verse becomes a mantra of a mind-expanding collective thought. It reminds us, that one single answer is never the answer.

Thousands of user profiles from the web were parsed, matched according to four questions and sorted in an alphabetical order.
The Fundamental Questions read by a computer
Featured in Journal of Writing in Creative Practice
"I am the gambling of the fraudulent; I am the splendour of the splendid; I am victory; I am determination; I am the goodness of the good. I am a huge animal lover and love to spend time with my chinchilla and 2 pet rats." – from the excellent piece of mashed-up uncreative writing called "The Fundamental Questions." From Vicki Bennett and Gregor Weichbrodt. Further confirmation that the best use of appropriation in art is with a healthy dose of humor and joy. [And it comes in a paperback, almost the same size as your pink, half-read copy of Zen and the Art of Motorcycle Maintenance.] — Kevin Hamilton

Related item: I am that I am – A Twitterbot that combines verses from the Bhagavad Gita with user profile texts from the web. I am that I am @newmantras