Audience quotes:
"probably the most magnificent piece of cinema I've ever seen, I was knocked out by it, I'll remember that vividly for the rest of my life, absolutely staggering" –– audience member, SPILL Festival, Ipswich UK
"We begin on the outside looking in, and then finish from the inside looking out. 'Gone, Gone Beyond' is an immersive cinematic experience, with so many layers and dimensions in sound, space and time, woven together beautifully." – Andrea H — Grey Area, San Francisco
"Gone, Gone, Beyond went well beyond all my expectations. It was both delightful and challenging, a tour de force of images and sound, rising, falling, mixing, merging, and celebrating the beauty of resonance and discordance all at once. I could not stop smiling at its unrelenting waves of cleverness and boldness. Bravo! If only SFMOMA had such gumption." – Ben D — Grey Area, San Francisco
"Such a lovely excursion — thank you for the invitation! Like an experimental iMax viewing without the neck cramp. I think adding spin-y chairs would really complete the experience :)" — Grey Area, San Francisco
"I thought it was a really interesting collage work. I didn't expect it to be somewhat funny at times; it was a break from the nerd culture I usually experience at Gray Area." — Grey Area, San Francisco
"This was the best CineChamber I've seen." — Grey Area, San Francisco
"I really enjoyed the experience. The piece was really well made. I wish there was a better way to arrange the seats so that it made seeing all the screens easier. Seating on the floor gets tiring especially if the event is long. Also an announcement before the event that asks people to refrain from talking and constantly checking their would be very helpful, especially for AV shows." — Grey Area, San Francisco

"The first time I saw a 360 degree movie was at Disney World, and it was nothing compared to this. Gone, Gone Beyond takes us to the next level in the People Like Us Cinematic Universe, by adding not just one more dimension to the traditional flatness of cinema but a groundbreaking way of approaching video collage. I've never seen anything like it." — tomcomitta — Grey Area, San Francisco

"it was epic. Wasn't sure if I'd dreamt it or it actually happened. A visual feast and a truly mind bending experience." — Vic, Attenborough Centre, Brighton UK

"Just went to see it! It's a f**king masterpiece!" –– Helena, Attenborough Centre, Brighton UK

"Created by Vicki Bennett (aka People Like Us), 'Gone, Gone Beyond' was five years in the making and combines sequences from innumerable iconic movies, alongside specially shot footage. This hour long 360 degree film collage work is a fully immersive and at times psychotropic experience. Anyone who has encountered Bennett's work over the past 30 years won't be surprised by her painstaking attention to detail, or the range of raw materials she is able to blend and shape to serve her own witty and occasionally unsettling vision.Whilst many collagists seek out unfamiliar source material, she often elects to use some of the best known musical and cinematic works of the late 20th century. As narrative surrenders to a cosmology of symbols and recurring motifs, her alchemical skill means this juxtaposition of overly familiar material can forge new meaning and authentic emotion.'Gone, Gone Beyond' pushes the boundaries of cinema, not only in its formal presentation, but also in the way it operates on the viewer's perception. It is Bennett's masterpiece, and it needs to be seen by anyone with an interest in cinema's rich history. As well as anyone fascinated by the future of the moving image."– Graham Duff, Attenborough Centre, Brighton UK

"I thought Gone, Gone Beyond was tremendous. I cried twice. The sheer mad energy of it. Great work." — John, SPILL Festival, Ipswich UK
"That was one of the best things that I've ever seen and heard. Amazing, and quite indescribable in words." — Pete, Barbican, London

"We live in a 24/7 blizzard of images, soundbites, information: a frenzy of scrolling ephemera. Gone, Gone Beyond takes that feeling of crush and rush and deluge and pushes it towards an absolute horizon, a thrilling catastrophe, as if searching for some kind of step-change or transformation that may be just a preview of extinction, or, if you're so inclined, a flight path to states beyond. It's an enthralling and constantly fascinating audio/visual/spatial experience: at times frightening, funny, invigorating, lysergically beautiful or achingly sad. Lyrical fragments from familiar songs vibrate with haunting new resonances, snippets of classic movies infect one another with unexpected ironies, moments of meditative calm collide with the surreal excess of a deranged Hollywood, as everything constantly warps and weaves into strange new shapes. All of this is conveyed in 360-degree cinematic surround, and the images are seamlessly manipulated and choreographed to make maximum use of the possibilities: swooping transitions, corner-of-the-eye startlements, wraparound 'you-are-there' head-trips, and a frequent 'tearing of the veils' sensation as scenes are engulfed by fire or smoke or cosmic darkness. 21st century global-digital culture can feel like a city with no exits, a relentless procession of information surfaces: Gone, Gone Beyond is a herculean attempt to lift it all up by the bootlaces and sling it round the bend into… who knows where". — Stephen Thrower, Attenborough Centre, Brighton UK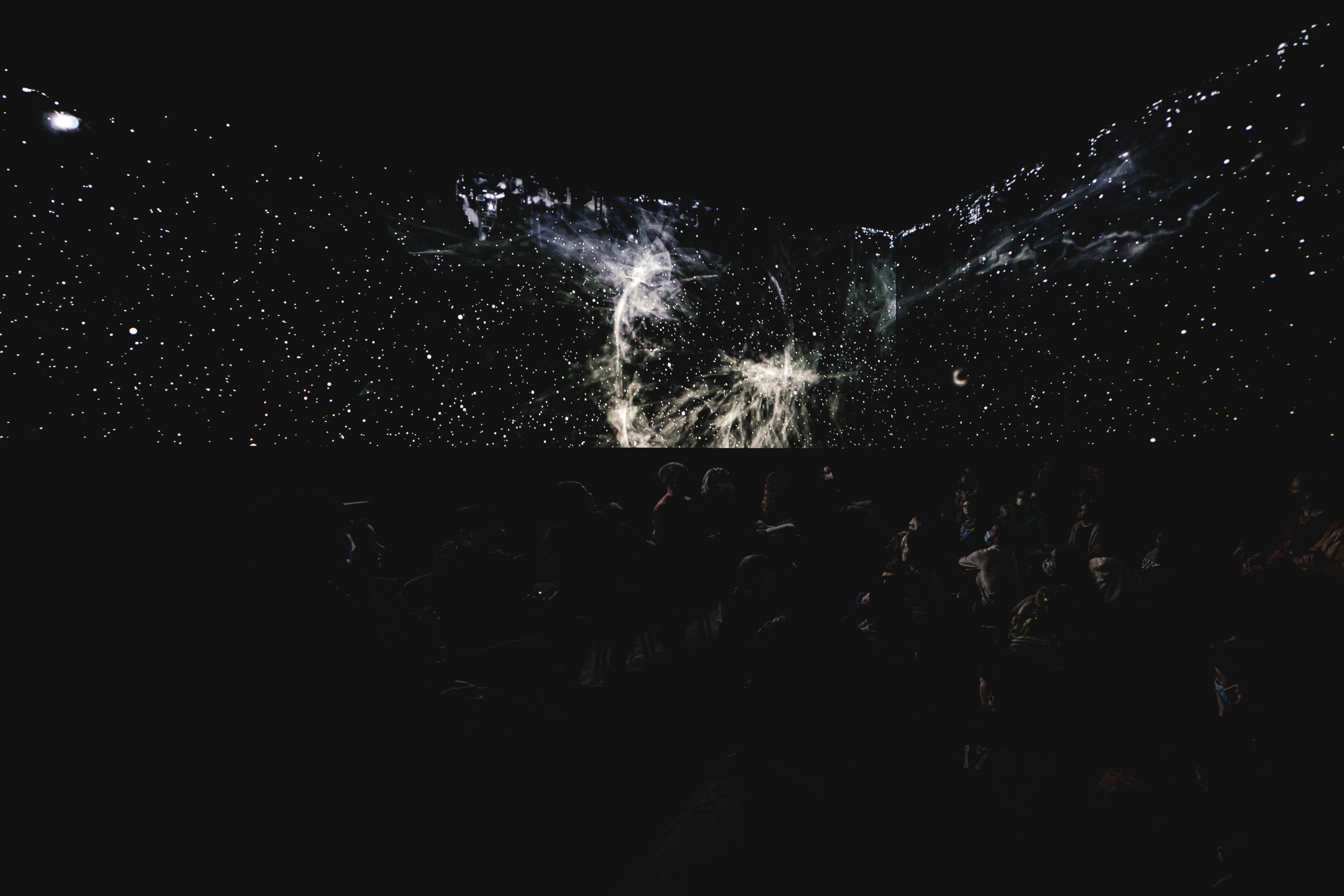 "feeling overwhelmed and thoroughly inspired by what I just saw. So many breathtaking and witty collisions of sound and image I don't know where to start. A truly amazing job Vicki & co.!" — Ian, Barbican Centre, London

"It was amazing, so much work up there on the screen even from one angle let alone four that it would require repeated screenings to catch it all. The visual and sonic narratives would carry across into any territory and language I'm sure, making it an easy export just about anywhere in the world that could host it. Would love to see it progress into a larger scale work if that was possible too." — Kev, Barbican, London

" loved loved loved it – an amazing immersive experience that shows what can be achieved…it was an experience sitting above the sound, you can feel it resonate through you" — Hazel, SPILL Festival, Ipswich UK

"Am so grateful to have seen this last night. So amazing to see how this has developed. Think it had a really cathartic effect on my mind" — Lisa, Barbican Centre, London

"Absolutely brilliant work, and seeing it for the second time I felt like I was noticing so much I missed the first time round. Highly recommended, do go and see it." — Akāshamitra, Barbican, London

"An absolute work of genius. So happy to see this and thank you for sharing such a wonderful creative masterpiece." — Angela, Attenborough Centre, Brighton UK

"It blew me away!" — Andrew, Attenborough Centre, Brighton UK
"Gone, Gone Beyond took me to so many amazing places – totally immersive, blown away by the the vibrations of sound, vision, memories, art, film, music and more. I have never experienced anything quite like it – my neck wished it was on swivel so that I could spin around quickly to see as much as possible – I was offered earplugs in case I needed them but I wanted to be fully present to everything that came at me and to me. I loved it all – the images from past, present and future – take me to the stars and back – what a trip – what a journey – amazing – well done to all involved – more please!!!!" — Donna, Attenborough Centre, Brighton UK

"Unlike anything else I've seen. Absolutely wonderful." — Misha, Attenborough Centre, Brighton UK
"This is one of those all audience works and it would be at home in any city it came to" — Jon, Gray Area, San Francisco

"Massive show. Brilliant, surprising, humorous, full of questions and combinations. Excellent evening" — Simon Fisher Turner, Barbican, London

"Very much enjoyed the amazing sensory experience and bursting energy of this wonderful piece of work. Pretty mIndblowing. The colours and sounds and images stayed spinning in my head for days! I'd love to see it again." — Janet, Barbican, London

"Gone Gone Beyond was both one of the most moving experiences of my life and one of the most beautiful things of any kind I've ever seen. It was somehow as familiar as my own subconscious and aggregated memories, yet as unsettling and otherwise as an unexpected hallucination. I can't wait to see it again at Canterbury. Thank you!!" — Malcolm, Barbican, London

"This was exhilarating and life-affirming. When it ended I just wanted to watch it all over again. A wonderful experience." — Jenni, Barbican, London
"Privileged to attend an absolutely marvellous event at Goldsmiths College, a unique piece of immersive 360 degree cinema put together principally by People Like Us aka Vicki Bennett. It builds on her previous work, juxtaposing familiar film and music to unsettling effect;… the audio and imagery builds layer upon layer to a meaningful, psychedelic cacophony, layer upon layer of the familiar; .. over an elaborate, kaleidoscopic sensurround collage of footage….The familiar and the unsettling; that's the idea. Taking these film clips out of their original contexts, presenting them as part of a gushing continuum of dynamism, breakthrough, without resolution; because, in life, there is no resolution, no end to the story, simply this multiple, simultaneist mass of concurrent narratives, whose sheer kinetic energy, like an ever-flowing waterfall, is the real story that cinema is telling us; "endings" are mere temporary hiatuses, the definition of fiction. tl;dr; this is a meticulous, deceptively chaotic audiovisual blast like no other. And it deserves to be seen by everyone." — David Stubbs, private screening at Goldsmiths, London UK

"It was an absolute pleasure and flat cinema will never feel the same again!" — Leanne, Barbican, London

"Great to have a record to try and convey the impossible task of describing what it was like. I love the fact that one has to be in it to know it. The transformation from Austrian alps to the napalmed jungle is a moment etched. The bombastic soundtrack was beyond, very beyond!" — Julian, Attenborough Centre, Brighton, UK
"I really enjoyed the experience, and I'm finding that I keep thinking about it, it's a truly memorable piece of work. Good luck with everything that comes next." — Angela, Barbican, London

"I'm at a loss to describe, 'Gone, Gone Beyond'. The scale of it, the 'I've-never-seen-anything-like-it-ness. That it's not a kaleidoscope or a rollercoaster and a dodgem car of merged pop culture memories. It is those things, but so much more. How People Like Us messes minds is with our sense of time, I think, maybe. What we don't think of nostalgia and our fear of the nothingness of life. Audio-visual collage that deconstructs and disassembles. What surprises most is the delicacy of its intimacy in such a large dizzying frame. Even in the darkest moments of 'Gone, Gone Beyond' the candles flicker and dim, the infinite dancers spin downward like rain, the 1970s jukeboxes merrily mash up making something astonishingly new and somewhat otherworldly. The balance of this, and what I love so much about all of Vicki's work, is that this is avant garde art that holds an audience of all ages and backgrounds on the edge of their seats. In 'Gone, Gone Beyond' I saw schoolchildren and misled daytime shoppers enraptured for over an hour in Ipswich. In 30+ years of going to all sorts of arts, I've really never seen anything like that before. In the cinemascope experience, the audience and their reaction is part of 'Gone, Gone Beyond' – this is truly immersive work." — Leon, SPILL Festival, Ipswich UK

"What a brilliant excuse to sit down and watch every film ever made worth watching" — audience member, Attenborough Centre, Brighton UK

"Absolutely blown away by @do_or_diy new show 'Gone Gone Beyond' @BarbicanCentre go and see immediately if you are a lover of cinema and film. On till end of week. Thank me later." — Gerard Johnson, Barbican, London

"sensory overload"– audience member, SPILL Festival, Ipswich UK

"it was amazing, we could not stop talking about it and we think the next step is a viewing from a floatation tank, with room to turn 360*" — Hazel, SPILL Festival, Ipswich UK

"So good I came back with the kids who thought I'd spiked their drinks" — Andrew, Barbican, London

"fragments of memories, visual audio bonanza thrown at you from all angles" –– audience member, SPILL Festival, Ipswich UK

"like doing all drugs at the same time, in a nice way"– audience member, SPILL Festival, Ipswich UK

"This was absolutely mindblowing" — Shane, Barbican, London

"It really was incredible. It took me a few minutes to realize there was no way I could 'see' every bit (head spinning 360). Then I could relax and enjoy the experience, knowing that I have to see it again, and again." — Tracey, Barbican, London

"A truly mind-blowing, mesmerising and epic 360-degree audiovisual experience unlike anything you may ever before have seen." — Leanne, Barbican, London

"Was so so good
probably the best female artist on the planet right now . Mashed up mixed up and messy – I love her distorted dystopian films" — Helen, Barbican, London

"an incredibly vivid visual rollercoaster and I loved the soundtrack" — Mark, Barbican, London

"Wonderful immersive and mindblowing cinema experience at the Barbican created by talented Vicki Bennett. Go if you get the chance! We loved it" — Janet, Barbican, London
The works title and underlying concepts come from the Heart Sutra, a key Buddhist text, describing how all phenomena are empty in form yet ultimately interconnected. The last lines of the Heart Sutra say 'gate gate pāragate pārasamgate bodhi svāhā', which means "gone, gone beyond, gone beyond that a bit more, and then beyond that a bit further". This reflects perfectly the action of going beyond the frame to where there are no edges to the narrative – just emptiness.
In this 360º format, time and space becomes elasticated, with the use of collaged video furthering the reflection on how information comes to us as fragments and that nothing is fixed. A new narrative-thread is woven in the mind of each viewer every time the work is seen, limited only to that exact time and space – just as the Heart Sutra reminds us that the only constant is change, and everything is related with no fixed source.

The initial in-process tester movie screened in San Francisco in October 2017 at RML's own Recombinant Festival at Gray Area Foundation for the Arts. Since then the work has been in development, with a private screening event in April 2019 Goldsmiths SIML (with thanks to Sound and Music's New Voices programme) for potential partners. The work will screen in Oslo (Black Box Teater/nyMusikk), Ipswich (SPILL Festival DanceEast), Brighton (Attenborough Centre For The Creative Arts (ACCA)) and London (Barbican), in Autumn 2021.
We gratefully acknowledge support from SPILL Festival of Performance, presented in partnership with Attenborough Centre for the Creative Arts (ACCA) and Barbican. Supported by Recombinant Media Labs (RML), DanceEast, nyMusikk, PRS Foundation's The Open Fund and Arts Council England. Developed as part of Sound and Music's New Voices Programme.
ALL COMMISSION ENQUIRIES OR BOOKINGS FOR GONE, GONE BEYOND ARE TO BE DONE DIRECTLY WITH US THROUGH OUR CONTACT PAGE.