People Like Us – The Library of Babel (2023)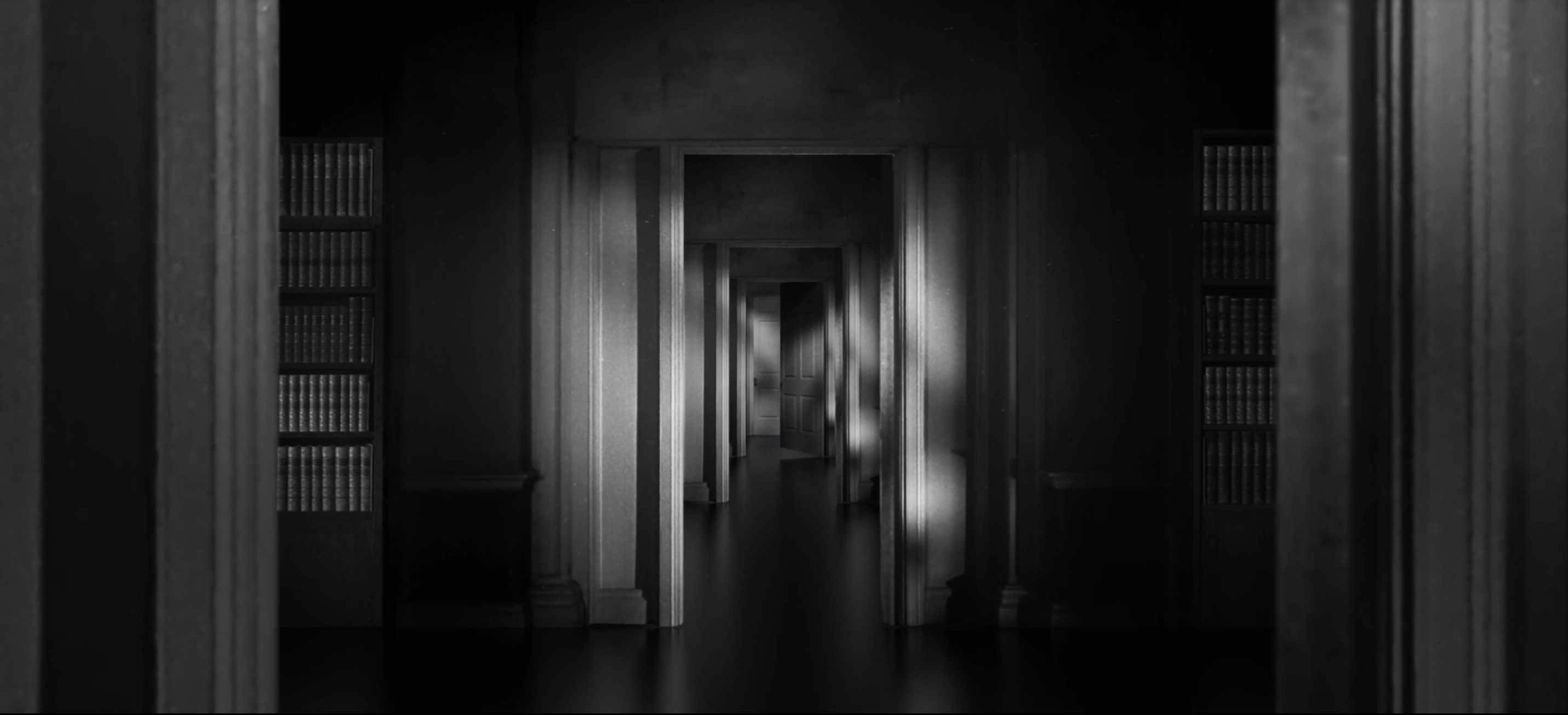 First there is experience.
Then we attach a story to it.

The Library of Babel is a vast library of words. Some combine to make stories of consequence, others are nonsensical.

The library is complete.
Yet searching it is futile.

Using dense collage and splintered narrative, "The Library of Babel" is a new audio-visual performance by People Like Us, a journey through cinema and sound where the actors are set adrift from their story, left with pure experience.

The title is inspired by a 1941 Jorge Luis Borges short story, exploring themes related to the complex interplay of infinity, knowledge, and the cosmic fabric, presented through the metaphor of a vast, seemingly infinite library. In the story, the librarians are isolated, focussed on an almost religious or existential quest, struggling to find meaningful texts amidst an overwhelming number of nonsensical or irrelevant books. The library itself has no goals or intentions; a canvas onto which searchers project their quests for meaning. The narrative delves into the angst and crises of those that explore its depths, raising questions about our ability to manage, navigate, and find meaning from vast amounts of information.

In this new work by People Like Us, traditional storytelling gets a modern twist through the amalgamation of audio-visual collage and intricate editing techniques. The digital narrative reconfigures, decomposes, redirects, and recombines images with sounds that are often already ingrained in audience's collective consciousness due to their prior associations within the selected materials. Initially, they sail on a journey of previous associations and memories. However, the extensive fusion of source materials evolve them into a unified whole, severing past affiliations and pioneering uncharted territory that transcends memory to become a singular, immersive experience. Rather than adhering to a linear progression of events, the thematic narrative unfolds in layered complexities, offering a fragmented but coherent tale achieved through a blend of various sources and an 'exquisite corpse' approach.

Using collage as a medium democratises the content, making it resonant not just for aficionados of art, film, or music, but for a broad cross-section of the community. The technique is a universal entry point that appeals to both young and old, presenting elements that can communicate varied messages about film, music, culture, or society. Alternatively, the collage can stand alone as an extraordinary experience devoid of an overt narrative. Indeed, the aim is to use storytelling as a tool to transcend the preconceived notions and internal stories that audiences may bring with them.
Vicki Bennett (artist name People Like Us)
w. peoplelikeus.org | w. ubu.com/sound/plu.html | w. wfmu.org/peoplelikeus

Under the name "People Like Us," artist Vicki Bennett has been making work available via CD, DVD and vinyl releases, radio broadcasts, concert appearances, gallery exhibits, 360 immersive installations and online streaming and distribution since 1992. Using collage as a compositional tool, Vicki Bennett opens up endless opportunities to experience results that are more than the sum of the parts.

As a solo artist or collaborator Vicki has published more than 40 video projects and 50 audio recordings, with works released by labels including Illegal Art, Rough Trade, Soleilmoon Recordings, Discrepant, Sonic Arts Network and Touch. Vicki's DO or DIY show on the fiercely independent New York City-market radio station WFMU has run since 2003. Her video work has been screened at Tate Modern, Whitechapel Gallery, BFI, Purcell Room, Barbican, ICA, V&A. Centre Georges Pompidou (Paris), Sonar (Barcelona), MAXXI/National Museum of XXI Century Arts (Rome), Walker Art Center (Minneapolis) and Centro de Cultura Digital (Mexico City), among other institutions. Video works have been aired on Channel 4 and radio sessions created for John Peel and Mixing It.

People Like Us has been commissioned by Arts Council England, Barbican, Attenborough Centre (ACCA), The BBC, WDR, Deutschlandradio, PRSF, a-n, Great North Run, Sound and Music, Channel 4/Animate Projects, AV Festival, Hallwalls Contemporary Arts Center, Recombinant Media Labs (RML), Sonic Arts Network, Forma, LUX and Lovebytes.

To date, Vicki has had 7 solo exhibitions and participated in at least 20 group shows at MAXXI (Rome), Venice Biennale, HMKV (Dortmund), Centro de Cultura Digital (Mexico), Hatton Gallery (Newcastle), Vitrine (London), alt.gallery (Newcastle), Greene County Council for the Arts Gallery (NY), Peacock Visual Arts (Aberdeen), Pallant House (Chichester), Engramme (Quebec), La Scatola Gallery (London), Changing Room (Stirling), Franklin Street Works (Connecticut), Usurp Gallery (London), University of Greenwich Galleries, Matthew Gallery (Dundee), Edinburgh Printmakers, Millennium Gallery (Sheffield) Leeds College of Art, Sunbeam Studios (London) and Hallwalls Contemporary Arts Center (NY).

The work of People Like Us has been featured in many publications, including Sounds Like Silence – 4'33'' Silence Today (Spectre Books 2012), The Journal of Writing In Creative Practice (Vol 7 Issue 1 2015), The Fundamentals of Sonic Art and Design by Tony Gibbs (Ava Publishing 2007), Cutting Across Media by Kembrew McLeod (Duke University Press 2011), Here To Go – Art, Counter-Culture and the Esoteric (Forum Nidrosiae 2014), Incredible Machines by Danny Snelson (avant 2014), Sensations of History (University of Minnesota Press 2019) and she has written for The Wire's Collateral Damage (February 2012) and Inner Sleeve (October 2024). Vicki has a whole chapter dedicated to her work in Duchamp Is My Lawyer The Polemics, Pragmatics, and Poetics of UbuWeb by Kenneth Goldsmith on Columbia University Press (2020) and a chapter in Different People – Conversations on Art, Life and the Creative Process by Carl Abrahamsson on Trapart (2021).
Audience quotes from Gone, Gone Beyond, a previous 360 surround work (2021):

"probably the most magnificent piece of cinema I've ever seen, I was knocked out by it, I'll remember that vividly for the rest of my life, absolutely staggering" –– audience member, SPILL Festival, Ipswich UK

"We begin on the outside looking in, and then finish from the inside looking out. 'Gone, Gone Beyond' is an immersive cinematic experience, with so many layers and dimensions in sound, space and time, woven together beautifully." – Andrea H — Grey Area, San Francisco

"Gone, Gone, Beyond went well beyond all my expectations. It was both delightful and challenging, a tour de force of images and sound, rising, falling, mixing, merging, and celebrating the beauty of resonance and discordance all at once. I could not stop smiling at its unrelenting waves of cleverness and boldness. Bravo! If only SFMOMA had such gumption." – Ben D — Grey Area, San Francisco

"I cried twice. The sheer mad energy of it. Great work." — John, SPILL Festival, Ipswich UK

"That was one of the best things that I've ever seen and heard. Amazing, and quite indescribable in words." — Pete, Barbican, London

"It's an enthralling and constantly fascinating audio/visual/spatial experience: at times frightening, funny, invigorating, lysergically beautiful or achingly sad. Lyrical fragments from familiar songs vibrate with haunting new resonances, snippets of classic movies infect one another with unexpected ironies, moments of meditative calm collide with the surreal excess of a deranged Hollywood, as everything constantly warps and weaves into strange new shapes". — Stephen Thrower, Attenborough Centre, Brighton UK

"Absolutely brilliant work, and seeing it for the second time I felt like I was noticing so much I missed the first time round. Highly recommended, do go and see it." — Akāshamitra, Barbican, London
"This is one of those all audience works and it would be at home in any city it came to" — Jon, Gray Area, San Francisco

"Massive show. Brilliant, surprising, humorous, full of questions and combinations. Excellent evening" — Simon Fisher Turner, Barbican, London

"It was an absolute pleasure and flat cinema will never feel the same again!" — Leanne, Barbican, London